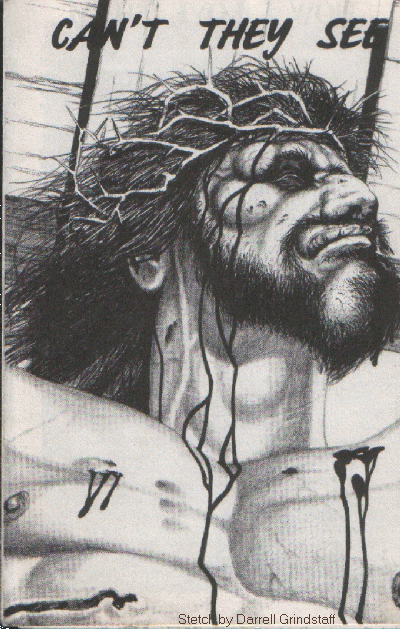 The Crucifixion


The Roman soldiers stripped, beat and crucified the Lord Jesus Christ but in reality, all of us did it. He gave his life for the sins of the world. He was sinless yet he became sin for you and me to set us free. He died in our place even though he wasn't found guilty of any charge. It was the politically correct thing to do. Pilate condemned the Lord Jesus Christ because he knew he would be in big time trouble by those higher up than he if he didn't. Jesus Christ said, " I am the good shepherd, and know my sheep, and am known of mine. As the Father knoweth me, even so know I the Father: and I lay down my life for the sheep. And other sheep I have, which are not of this fold: them also I must bring, and they shall hear my voice; and there shall be one fold, and one shepherd. Therefore doth my Father love me, because I lay down my life, that I might take it again. No man taketh it from me, but I lay it down of myself. I have power to lay it down, and I have power to take it again. This commandment have I received of my Father. There was a division therefore again among the Jews for these sayings." The bible tells us that no man ever spake as the Lord Jesus Christ spake. His words were spoken in power so those of the world with some political clout had to do away with him or lose their positions of influence with the common people.

He loves us so much that he stretched forth his hands and hung as sin for us on that cross. He who knew no sin became sin for us that we might be made the righteousness of God in him. He was buried but three days later, he rose from the dead and now he is alive forevermore to intercede for those who are his. Those who have accepted his free gift of everlasting life. He didn't just speak love as so many do today, he lived it. He gave his life for us continually by healing, delivering, helping, teaching and then one final time on the cross he gave it physically for all of us. Now do you see? I mean do you see just a little bit more of his great love for us. The Lord Jesus Christ wasn't forced to come, he came of his own free will to grant us his life in return for nothing. He will come into our lives and empower us to live the way that we should, give us the wisdom and boldness to speak what we need to speak at the times that we need to speak it. He furnishes us all that we need now and for all eternity. Praise his holy name!

By the way, regarding the picture. I have never really seen one that pictures the Lord Jesus Christ the way that I believe he looked. He looked more like raw hamburger meat when they finished with him. But the physical part wasn't the worst of it, it was the soulish part, the separation from God. That is agony!