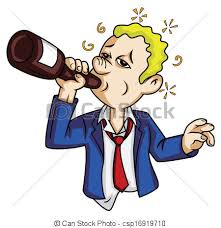 A STUDY ON "THE 12 STEPS" IN ALCOHOLICS ANONYMOUS
STEP 1
We admitted we were powerless over alcohol - that our lives had become unmanageable.
Who cares to admit complete defeat? Admission of powerlessness is the first step in liberation. Relation of humility to sobriety. Mental obsession plus physical allergy. Why must every A.A. hit bottom?
COMMENT: We don't have to... hit bottom but we must see our ourselves as sinners in need of a Saviour. God wants to free us before we hit bottom but we must turn to Jesus in faith to experience his life. STEP 2
Came to believe that a power greater than ourselves could restore us to sanity.
What can we believe in? A.A. does not demand belief; Twelve Steps are only suggestions. Importance of an open mind. Variety of ways to faith. Substitution of A.A. as Higher Power. Plight of the disillusioned. Roadblocks of indifference and prejudice. Lost faith found in A.A. Problems of intellectuality and self-sufficiency. Negative and positive thinking. Self-righteousness. Defiance is an outstanding characteristic of alcoholics. Step Two is a rallying point to sanity. Right relation to God. COMMENT: God does DEMAND belief. Heb. 11:6 says, "But without faith it is impossible to please him: for he that cometh to God must believe that he is, and that he is a rewarder of them that diligently seek him." Jesus let us know that the way to life is narrow and few find it and he went on to say that he was the way, the truth, and the life. He did not say that there was another way, or another truth, or another life. He is the ONLY way. When a person says that Jesus is the ONLY way then they are thought of as narrow minded not open minded. Truth is always narrow minded... 2+2 always equals 4 never 5 or 6 or 7 or whatever. Truth is stable, steadfast. Suggestions don't set a man free, God's word does by his Spirit. He gave us the 10 Commandments in the O.T. and some want to make them the 10 Suggestions. He is telling us what to do for our own good, God doesn't suggest things to do to set us free, he tells us what to do to walk in his freedom and that is in Jesus. STEP 3
Made a decision to turn our will and our lives over to the care of God as we understood Him.
Step Three is like opening of a locked door. How shall we let God into our lives? Willingness is the key. Dependence as a means to independence. Dangers of self-sufficiency. Turning our will over to Higher Power. Misuse of willpower. Sustained and personal exertion necessary to conform to God's will. COMMENT: God is not as we understand him, he is God. God is not limited to our understanding. He is infinite and we are finite. We are the ones who are limited, he is unlimited. He revealed himself to the world in Christ Jesus. How do we let God into our lives? The answer is simple, turn in faith to Christ Jesus, ask him to forgive your sins and come into your life as Lord and Saviour. He will give you the strength, the power, the desire, and whatever else is needed to live for him. STEP 4
Made a searching and fearless moral inventory of ourselves.
How instincts can exceed their proper function. Step Four is an effort to discover our liabilities. Basic problem of extremes in instinctive drives. Misguided moral inventory can result in guilt, grandiosity, or blaming others. Assets can be noted with liabilities. Self-justification is dangerous. Willingness to take inventory brings light and new confidence. Step Four is beginning of lifetime practice. Common symptoms of emotional insecurity are worry, anger, self-pity, and depression. Inventory reviews relationships. Importance of thoroughness. COMMENT: All of our morals have been shot to pieces and that is because of sin even when we look spotless, we are filthy in the eyes of God and that is why we need new life, we DO NOT need to turn over a new leaf, we NEED new life and it is in Jesus. The bible says, "But we are all as an unclean thing, and all our righteousnesses are as filthy rags; and we all do fade as a leaf; and our iniquities, like the wind, have taken us away." (Isa. 64:4) The bible also says, "I can do all things through Christ which strengtheneth me." (Phil. 4:13) For real hope, real life, real victory, our focus has to be on what he has done for us on the cross and what he desires to do in our lives daily as we depend upon him. STEP 5
Admitted to God, to ourselves, and to another human being the exact nature of our wrongs. Twelve Steps deflate ego. Step Five is difficult but necessary to sobriety and peace of mind. Confession is an ancient discipline. Without fearless admission of defects, few could stay sober. What do we receive from Step Five? Beginning of true kinship with man and God. Lose sense of isolation, receive forgiveness and give it; learn humility; gain honesty and realism about ourselves. Necessity for complete honesty. Danger of rationalization. How to choose the person in whom to confide. Results are tranquillity and consciousness of God. Oneness with God and man prepares us for following Steps. COMMENT: The writer above calls them defects and God calls it sin. Drinking is sin not defects. Drinking destroys lives, families, bodies, causes confusion, drunkeness, etc. The God of the bible isn't calling us to confess our defects to him but our sins. Sin is what separated us from God. Sin must be confessed and forgiven by God and he will cause us to walk in a power, an anointing, a victorious life. The first and foremost that we are to receive forgiveness from is God and he doesn't need us to forgive him since he hasn't done anything wrong to need our forgiveness. STEP 6
Were entirely ready to have God remove all these defects of character.
Step Six is necessary to spiritual growth. The beginning of a lifetime job. Recognition of difference between striving for objective - and perfection. Why we must keep trying. "Being ready" is all important. Necessity of taking action. Delay is dangerous. Rebellion may be fatal. Point at which we abandon limited objectives and move towards God's will for us. COMMENT: The writer seems to be playing word games. DEFECTS are not the problem, SIN is the problem. ALL have sinned... ALL need Jesus' cleansing. I DO AGREE that we need to be ready and being ready is walking in FAITH, belief in the GOD of the bible and his human name is Jesus Christ. STEP 7
Humbly asked him to remove our shortcomings.
What is humility? What can it mean to us? the avenue to true freedom of the human spirit. Necessary aid to survival. Value of ego-puncturing. Failure and misery transformed by humility. Strength from weakness. Pain is the admission price to new life. Self-centered fear chief activator of defects. Step Seven is change in attitude which permits us to move out of ourselves toward God. COMMENT: NOW it is shortcomings. Doesn't seem all that bad but when we talk sin, it gives a negative connotation. People don't want to hear about sinning against a holy, pure, and awesome God. I guess I could agree that "pain" is the admission price to new life but the "pain" was bore by the Son of God so I don't have to bear it. He suffered and died for me to make me new and now he lives within me to make me an overcomer in him. Praise his holy name. STEP 8
Made a list of all persons we had harmed, and became willing to make amends to them all.
This and the next two Steps are concerned with personal relations. Learning to live with others is a fascinating adventure. Obstacles: reluctance to forgive; nonadmission of wrongs to others; purposeful forgetting. Necessity of exhaustive survey of past. Deepening insight results from thoroughness. Kinds of harm done to others. Avoiding extreme judgments. Taking the objective view. Step Eight is the beginning of the end of isolation. COMMENT: Confession of sins to GOD and confession of faults to others are important. We SIN against a holy and pure God, we mess up, make mistakes with people and there is a big difference. We DO NOT sin against one another, we might fail each other, lie to each other, hurt each other but we SIN against God. STEP 9
Made direct amends to such people wherever possible, except when to do so would injure them or others.
A tranquil mind is the first requisite for good judgment. Good timing is important to make amends. What is courage? Prudence means taking calculated chances. Amends begin when we join A.A. Peace of mind cannot be bought at the expense of others. Need for discretion. Readiness to take consequences of our past and to take responsibility for well-being of others is spirit of Step Nine. COMMENT: This one goes with STEP 8 and to have a transquil mind we must be right with God through Jesus Christ. STEP 10
Continued to take personal inventory and when we were wrong promptly admitted it
Can we stay sober and keep emotional balance under all conditions? Self-searching becomes a regular habit. Admit, accept, and patiently correct defects. Emotional hangover. When past is settled with, present challenges can be met. Varieties of inventory. Anger, resentments, jealousy, envy, self-pity, hurt pride - all led to the bottle. Self-restraint first objective. Insurance against "big-shot-ism". Let's look at credits as well as debits. Examination of motives. COMMENT: This seems like a repeat of STEPS 8 and 9. We need to be right with God and others but there is only one God that we need to be right with and all other gods are devils of some sort in one way or another. STEP 11
Sought through prayer and meditation to improve our conscious contact with God as we understood Him, praying only for knowledge of His will for us and the power to carry that out.
Meditation and prayer main channels to Higher Power. Connection between self-examination and meditation and prayer. An unshakable foundation for life. How shall we meditate? Meditation has no boundaries. An individual adventure. First result is emotional balance. What about prayer? Daily petitions for understanding of God's will and grace to carry it out. Actual results of prayer are beyond question. Reward of meditation and prayer. COMMENT: This is a super dangerous one from the way that it is worded. "[C]ontact with God as we understand Him,..." That could be a mouth full. I have met so many people that have a [G]od of their understanding and he is not the God of the bible. We can get temporary deliverances from things in the natural such as booze, and other forms of drugs and never know the Lord of life, Jesus. The bible says something very interesting about this one, "Trust in the LORD with all thine heart; and lean not unto thine own understanding. "In all thy ways acknowledge him, and he shall direct thy paths." (Prov. 3:5,6)
God has already shown us what we need to know about him. Our own understanding cannot comprehend God. He is far above us, our understanding is limited as I said before in STEP 3, this one is kind of a repeat of STEP 3 above.
The bible also says, "There is a way which seemeth right unto a man, but the end thereof are the ways of death." (Proverbs 14:12) We think so shallow sometimes, in so much confusion and God straightens that out in our lives as we feed on his word, memorize it, meditate on it, study it. He renews our minds through it and conforms us more and more to his image. Check Rom. 12:1,2, Psa. 119:9-11, John 17:17. II Tim. 2:15, to name a few. STEP 12
Having had a spiritual awakening as the result of these steps, we tried to carry this message to alcoholics, and to practice these principles in all our affairs.
Joy of living is the theme of the Twelfth Step. Action is keyword. Love has no price tag. What is spiritual awakening? A new state of consciousness and being is received as a free gift. Readiness to receive gift lies in practice of Twelve Steps. The magnificent reality. Rewards of helping other alcoholics. Kinds of Twelve Step work. Problems of Twelfth Step work. What about the practice of these principles in all our affairs? Monotony, pain, and calamity turned to good use by practice of Steps. Difficulties of practice.
"Two-stepping". Switch to "twelve-stepping" and demonstrations of faith. Growing spiritually is the answer to our problems. Placing spiritual growth first. Domination and overdependence. Putting our lives on give-and-take basis. Dependence upon God necessary to recovery of alcoholics. "Practicing these principles in all our affairs": Domestic relations in A.A. Outlook upon material matters changes. So do feelings about personal importance. Instincts restored to true purpose. Understanding is key to right attitudes, right action key to good living. COMMENT: These 12 steps DO NOT give a real spiritual awakening, only Jesus gives the real thing. A person is received into a real spiritual awakening in the Lord Jesus Christ and ONLY he gives the REAL thing. You DO NOT work for a gift, a gift is FREE and the Giver of the gift of life comes into your life and empowers you to live for him. Jesus Christ is still calling men and women and all we have to do is answer that call by repenting from sin, asking Jesus in and we will become a new creature, a child of the Almighty God. He talks about a capital "G" God all through the twelve steps but he never tells anyone his personal name when he came in human flesh. Is it because he doesn't know him? Jesus said that if you do not know him then you do not know the Father God. "Jesus saith unto him, Have I been so long time with you, and yet hast thou not known me, Philip? he that hath seen me hath seen the Father; and how sayest thou then, Show us the Father?" (John 14:9)
There is in reality only STEP 1: "And they said, Believe on the Lord Jesus Christ, and thou shalt be saved, and thy house." (Acts 16:31) Once a person truly believes and that is receiving Jesus into your life, he comes in and gives you the power and everything else you need to live for him. He is the all-sufficient one. A heart belief is receiving as in John 1:12, "But as many as received him, to them gave he power to become the sons of God, even to them that believe on his name:" and a head belief is as we see in James 2:19, "Thou believest that there is one God; thou doest well: the devils also believe, and tremble." It must be personal, a heart belief. God put it within all of us to KNOW that there is a God but that doesn't give us a personal relationship with that one God, Jesus does.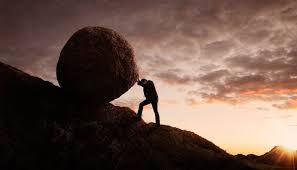 Prov 3
"5 Trust in the LORD with all thine heart; and lean not unto thine own understanding.
"6 In all thy ways acknowledge him, and he shall direct thy paths."
Jesus willl help you overcome any boulder in life that stands in your way to victory as you look to him.
Back to Reading Room