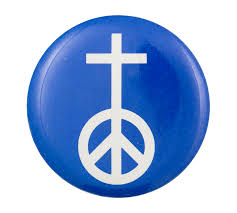 We are in the Time of Peace?
*Check closing comment.
---
An article by Danny Bunn, B.A (a born again believer in the Lord Jesus Christ.)
---
These days that we are living in since God put Donald Trump into office are the most incredible days that I have seen since I have been alive and that has been a while. God was using the last three sets of Presidents (approx 24 years) to destroy America but he was allowing it to be slow and even painful wanting to see repentance in the body of Christ, his people down here. I guess he saw it to some degree since he put the most awesome man into office that I have ever seen. I keep praying that Donald Trump comes to know the Lord of glory, Jesus Christ, in a personal manner. Many seem to think that since he is a patriot that he is automatically a child of God and that is NOT true. For a person to be in God's family you must be born into it. I was a child of my parents because I was born into their family in the physical. The same truth applies to the spiritual, to be born into God's family you must be born again, the Lord Jesus Christ made that plain when he was talking to Nicodemus in the book of John chapter 3. Read the first five verses in the KJV, God's pure word. There are differences though, the first birth wasn't my choice but the second one is. Satan doesn't give choices, God does. God doesn't want puppets but Satan does. Satan knows nobody would accept his way, his plan so he lies to them to get them to accept it. He told Eve regarding her and her husband that "ye shall be as gods, knowing good and evil." He just forgot to tell her that being a god like Satan is now is not good. He has hell to pay and all those who go his way get to be a god just like him and his domain is hell now and he will burn for eternity so will all that decide to go his way. They will experience the same as their spiritual father. God tells us over and over in the word of God to choose. Life is full of choices, many are wrong and many are right, we choose daily who we will follow.
Jesus Christ who is God in human flesh became a man, he came to set us free from sin. He was called the last Adam since the first Adam blew it in the garden and all born through him were born into sin since he was the father of the human race. Now Jesus Christ the last Adam causes all that are born through him by way of the spiritual birth by receiving him as Lord and Saviour become new creatures being born from above.
Back to Trump and the days we are living in. We kept going down and down with the previous Presidents but now we are seeing a reversal but I believe it is only going to be for a short time based on what I see in the word of God. We know in the last days that there will be a time so evil and terrible that no flesh shall be saved if Jesus Christ does not come in time to stop mankind for completely wiping everyone out. But the bible also talks about a short time of peace before the end of all things as we know them now.
The word of God says it this way in ...
I Thess 5
1 But of the times and the seasons, brethren, ye have no need that I write unto you.
2 For yourselves know perfectly that the day of the Lord so cometh as a thief in the night.
3 For when they shall say, Peace and safety; then sudden destruction cometh upon them, as travail upon a woman with child; and they shall not escape.
People from all over the world are talking about peace and safety coming to many because of what is happening in America under the Trump administration. Abortion has been brought way down, so much that it is freaking out Planned Parenthood and they love to kill babies. Obama was funding Isis to kill many all over the world even in America which has been completely stopped almost to the point that many don't know where they are any more.. People were losing their jobs, the market looked super bad just as it was under Clinton and Bush. Now it looks as though things are finally getting better for a while but you must understand that our only true hope is in God/Jesus. Without him we do not stand a chance for now or eternity. Just as God used pagan kings to bless his people in the Old Testament, he is using Donald Trump to bless his people now for a reason that I am not sure of yet. God leaves his people here for a purpose after he saves them and that is to reach others for his glory. He works through his people and he is commanding his people to reach out to others while there is time to do it. Christians are called the body of Christ for a purpose, we should be doing what he was doing when he walked this planet by walking in his Spirit. ministering by his power. God is giving us peace NOW to reach others for his kingdom, we don't know how long this time of peace will last so we better not be wasting time. The days will get so evil that no man can work and then if you wasted your openings NOW, you will be wailing woe is me then. So if you are truly a child of God by the blood of the Lord Jesus Christ then make sure you are sharing the love and life of God with others while you can do it. Don't you want to hear God/Jesus say, "Well done!" instead of "Depart from me!"
Jesus Christ said in...
John 14:27
27 Peace I leave with you, my peace I give unto you: not as the world giveth, give I unto you. Let not your heart be troubled, neither let it be afraid.
* If you noticed the symbol that I put on the top of this article, it has the peace symbol at the foot of the cross showing the world's peace in contrast to the peace that the Lord Jesus Christ gives which is a true eternal peace as we look to him, the author and finisher of our faith. The world's peace is a Satanic peace that Satan gives to them who deny the Lord of Glory by causing the peace symbol to be an upside down cross where many of God's people were crucified because they stayed true to the Lord Jesus Christ. Jesus Christ is a prayer away from each and everyone of us as we cry out to him in faith and repentance, he hears and answers our heart's cry.
---
Back to the Reading Room