Jesus Christ, who is he?

---
We need to think about this question, our destiny hangs on this person and who he is...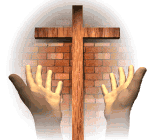 Some say that he is just a man, some say he is an angel, some say he is a myth, some say he is God in human flesh or the God/Man... Who is this person and why does the world have to deal with him everyday whether in the streets, the "churches", the bars, the porn shops, the stores, just about everywhere you go, whatever you are doing, his name is brought up if very much time passes. I would like to share a study that I have been doing with you and it is just the tip of the iceberg so bear with me. This study will be added to as the days pass by... so keep checking back!
More Than Conquerors
'A Back to the Basics' Bible Study
Chapter 1 -- Getting Started
Chapter 2 -- Hebrew and Greek definitions
Chapter 3 -- The God-nature, man-nature of Jesus
Chapter 4 -- The importance of Jesus
Chapter 5 -- Seeing Jesus in the Old Testament
Chapter 6 -- Old Testament and New Testament comparisons.
Chapter 7 -- Titles for Jesus and for Jehovah
Or remarks regarding Jehovah and applied to Jesus

Chapter 8 -- God is plural yet singular
---
e-mail-- ekkcom@ekkcom.net

Ekklesia Communicator Main Page